When does a hair salon become much more than just a salon? A surefire answer to this question can be found upon stepping into the luxurious and spacious Define Hair Studio in Vaughan, Ontario. The breathtakingly beautiful salon and spa treatment destination is the vision come true of sassy and energetic entrepreneur Julie Brocca, who devoted her heart and soul to creating a space that would allow visitors to shine inside and out.
At Define Hair Studio, not only is there a cornucopia of services, including hair extensions, balayage, wigs, facials and microblading; to name a few – on offer, but also an immersive experience that has been curated to truly supercharge the soul. Playful and inspiring interior design elements create the perfect stage for Brocca's dynamic and talented female team to work their transformational magic. Read on to find out a bit more about how the stunning interior was created and what drives the wow factor waiting for you inside!
Fun, fluidity and flowers
The first thing you will notice upon entering Define Hair Studio is the beauty of light. The second is its bright, cheerful and airy open plan design. At 3,000 square feet, the living room is exceptionally large, but there's more to manifesting such a charming interior than the space alone. Fresh white walls, 30ft ceilings and tall skylights are complemented by a funky floral theme and an eclectic selection of additional design elements that reflect the eye of a true artist.
Ultra-modern clocks and wall lights are seductively married with inviting touches of gold and velvet and glorious vintage-looking lounge chairs. A perfectly lit sensory feast can be discovered wherever the eye is cast, so it's no surprise visitors cherish every second they spend in the stylist's chair!
Credit for conceptualizing the mesmerizing interior goes to Brocca herself, who enlisted the help of Sandra Fiore – famed local interior design maestro of Fiore + Greco – to help realize an inspired whimsical vision. which is sure to arouse curiosity. Brocca's muse for space was actually a precious portrait of a woman; a large painting which today hangs behind the bespoke reception desk in the salon.
The subject of the portrait stares at the viewer in front of a white background, beaming unabashedly, with newspapers and flowers in her hair. As this striking aesthetic flows from the artwork itself, it quickly and seamlessly transitions into a decadent, resplendent interior design and a team of expert hairstylists and hairstylists. beauty as unquestionably gorgeous as they are highly skilled!
Speaking of fluidity, there's also a whole art to making such a grand interior feel both plush and intimate. To achieve such a feat, Brocca collaborated with Fiore to realize the potential of space. They've harnessed the playful use of angles and created cleverly partitioned areas so that those getting their hair colored or trying on the latest wig can enjoy the kind of intimacy that allows for deep relaxation and revel in the process.
As a seasoned superstar in the beauty industry, Brocca knows exactly how to make her clients feel valued and pampered, and as such, no detail is left to chance. This fabulous flair for finesse is reflected in the fact that the salon has been voted both one of the top three in North America and one of the top 100 in the world for salon design since it opened in 2019.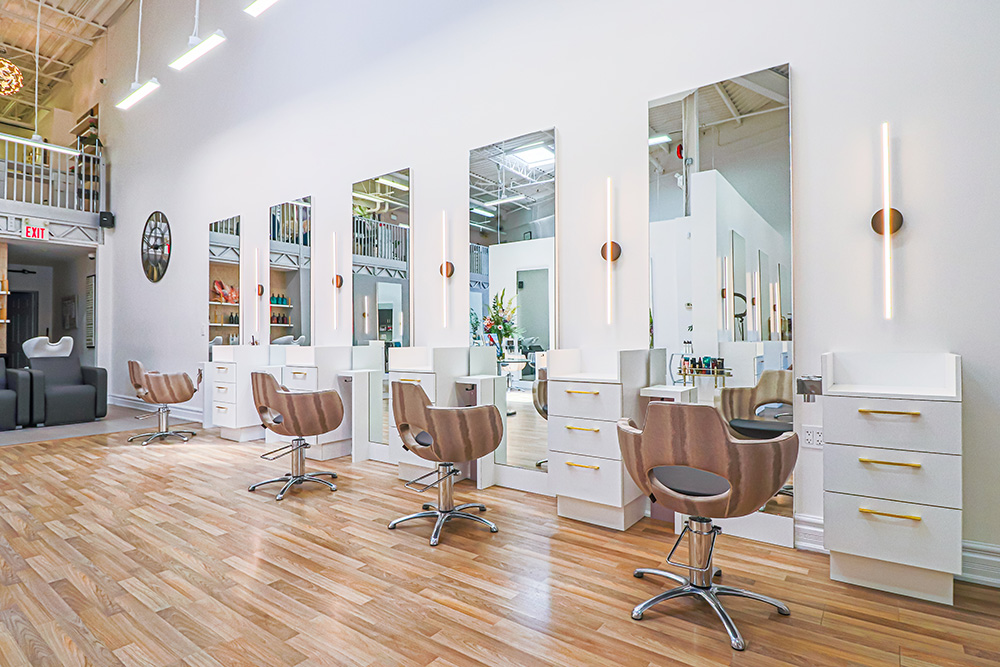 Delight in the details
We all love the experience of feeling at our most fantastic, and with that in mind, it's time to turn our attention to how the salon team facilitates that coveted feel-good factor! It's no surprise that the personality behind Define Hair Studio's stunning interior is also an expert at unleashing glamor and elegance on behalf of their clients. Among the salon's most popular services is balayage, an on-the-go hair color trend that involves the delicate freehand painting of graduated locks.
This French-named technique, pronounced "bah-lee-ahge," gives locks an alluring, soft, and natural fade of lightness, creating a sun-kissed look that easily frames the face. The specialist service appears in a dream menu of rejuvenating and aesthetically pleasing hair and beauty options, including contemporary cuts, hair extensions, luxury facials, nail care and more. Truly, a one stop shop for the contemporary woman.
In addition to an already impressive range of services, Define Hair Studio also offers top name brand products and treatments, such as Oribe, Kevin Murphy and Bellami Hair Extensions. For the latter, a private suite is available for those with hair loss issues. Why? Because Define Hair Studio is also a sanctuary for women going through the challenges of chemotherapy or dealing with health issues like alopecia. While recent media coverage of bold and glorious celebrities such as Jada Pinkett Smith makes those who know the complexities of hair loss feel more comfortable on their journey, many feel more comfortable with the Compassionate support from an up-to-date salon team.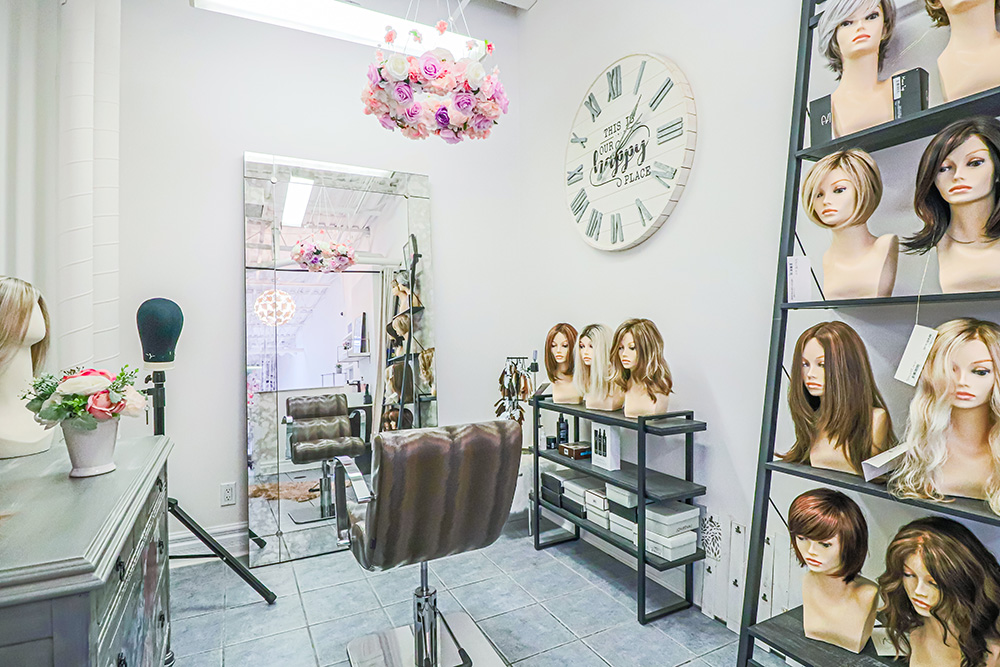 Whether these skills are sought in need or simply for pleasure, the salon's grand interior is the base of operations for Define Hair Studio's sister business, the Toronto Wig Studio. Here, women can rediscover their most confident selves, or perhaps even reinvent themselves entirely! This, as a team of highly trained stylists and wig specialists, offers one-on-one private consultations with the goal of making every client look and feel like never before. Whether wigs, toppers or goddess hair extensions are the order of the day, expert advice is on hand to help women regain or redefine their autonomous sense of beauty.
Returning once again to the surrounding space, it is impossible not to draw parallels between the level of attention to the many wants and needs of Define Hair Studio's customers and the skillful combination of visual touches. A keen eye is required to unite industrial elements and vintage touches; modern lux and minimalist alabaster: all in the same interior. Not to mention that the show is also a real Shangri-la for social media enthusiasts. Visitors can steal an epic photo opportunity on the studio's transparent golden and flower-decorated hanging egg chair – known to visitors as the flower swing – or perhaps before its colorful wings are painted and ready to go. job. In such perfect lighting, who wouldn't want to capture their own cool glow, moments after the makeover?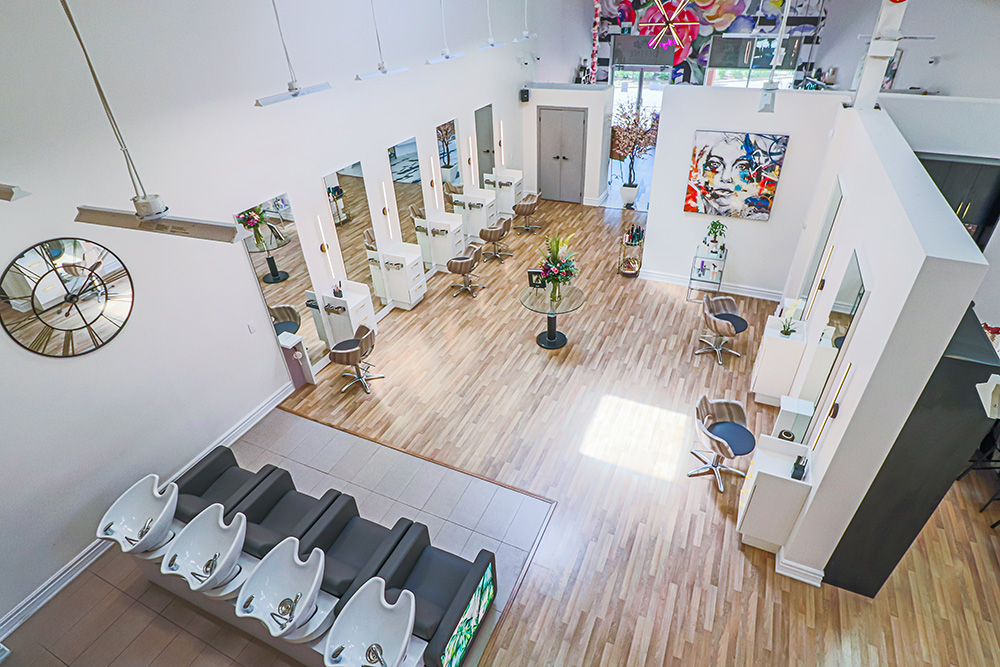 Embody female empowerment
Without a doubt, as a passionate female entrepreneur, Brocca is dedicated to bringing unparalleled positive experiences to life for her clients – and apparently her team as well. This feeling emanates from the presence of the studio's all-female, authoritarian, family-oriented and synergistic team. The funky vibe is contagious, and with specialist hair skills that encompass the latest in color and cut techniques, balayage, hair extensions, color corrections, deep conditioning treatments, blowouts, the hairstyle, the Bellami and the wigs, the sky is the limit in terms of potential looks and claiming an emboldened sense of feminine self.
Those who dream of spending time for themselves will appreciate the presence of a medical esthetician on site ready to meet their skin care needs, while anyone looking for dazzling nails can treat themselves to a manicure or a pedicure before choosing their preferred finish. Beyond the daily or gourmet treat, why not make an appointment at Define Hair Studio before your next big event? Whether it's a sparkly party or an elegant wedding, the studio's makeup artist helps clients achieve the look that will really make them sparkle!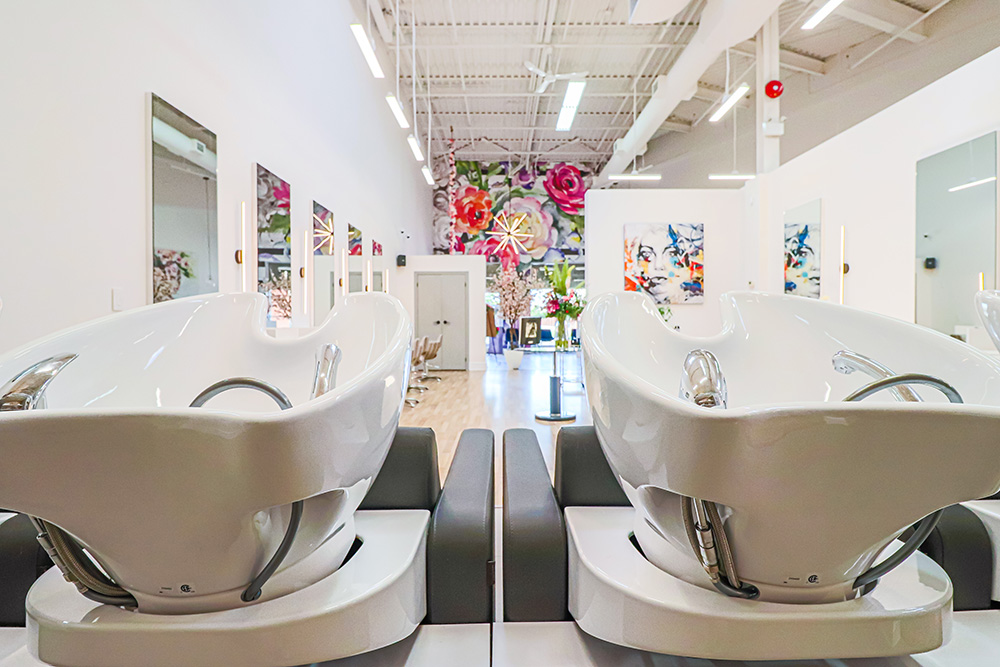 Of course, for women with cause to celebrate in the Greater Toronto Area, Define Hair Studio is also a great place to host bachelorette parties and pamper days with friends. A spacious reception area, along with substantial indoor seating, ensures that groups can turn self-care into an envious event. When you gather in a setting of floor-to-ceiling flower murals, Hollywood-style mirrors, cherry blossoms, and exuberant mantras like "All things pretty" and "Do what makes your soul shine," it's almost impossible not to smile. What could be better than facials, manicures and makeovers in such a charming and friendly space?
Together, this mix of factors creates a very welcome feeling of je ne sais quoi for clients entering the studio. Brocca describes the feeling as a "spring floral feeling 365 days a year" and, perhaps more aptly, as "heavenly." These ratings seem quite on point, as the space appears with both passion and serenity, which ultimately is the perfect combination to deeply recharge one's personal batteries and regain a sense of fulfillment.
Melodious vocals, laughter and an abundant sense of encouragement give a positive charge to the tune of Define Hair Studio. A striking and flirtatious aesthetic makes the space all the more enchanting, while the gold star services that the interior hosts serve as the ultimate experiential finisher. Positive transformation begins when you walk through the door and continues to evolve long after you leave, as visiting a hair and beauty salon like this will leave a lasting impression. So, back to where we started, when does a hair salon become more than just a salon? Visit Vaughan's Define Hair Studio and you'll be sure to find out!
DefineHair.ca • TorontoWigStudio.com • Instagram