A charity shop in Dublin city center has opened to provide free essentials such as clothes, food, toys and baby items to Ukrainian refugees.
The 'Palyantsya' center on Clarendon Street was set up by businessman Ruslan Mocharskyy, who has been in Ireland for several years.
The Ukrainian native has branches of cafes around Dublin, but says he has had little time to spend on his business in recent weeks.
Since the outbreak of war in his home country, he has been organizing aid to Ukraine, sending trucks to Poland with essential supplies, but with a surplus of clothes in warehouses there, he has decided to start offering it to people arriving here from Ukraine.
The building, a former barbershop, was given to him for free, and with much help he put it into use quickly.
"Normally it would take two or three months to organise, but we did it in a week," he said.
Mr Mocharskyy said he was delighted with the generosity of the Irish people and businesses who donated aid and items, but said for this new store they needed new things;
"Instead of five used items, please donate one brand new item. It doesn't have to be expensive, but something new if possible, please," a- he declared.
He added that small toys, children's clothes, infant formula and food for children are all needed.
There is a planned information desk and free haircuts as sinks are still in place, while Mr Mocharskyy said some doctors may be able to provide medical care.
"But that's for next week," he said.
"At the moment, today, the first day of opening, we just have to make sure everything is going well and smoothly."
Inside, Iryna Vlasova greets people as they enter, giving advice on what's available to people. She is a Ukrainian artist who has lived here for over a year.
She is moved when she explains why she volunteers here.
"I have family back home, so I would like to do whatever I can to help people here," she said.
Ms Vlasova said some of the women who arrived at the store today didn't want to take much.
"They don't dare to take all the things, like shampoo and shower gels, but I try to force them to take it," she said.
Ms Vlasova said she talked to people who came, tried to chat to find out what they needed and if their children needed anything.
"I can see that they are sad, but they are happy when they see that there are people who want to help them."
Daria Moria arrived here on March 9 with her mother. They both help with the store and her mother ran stores at her home in Ukraine.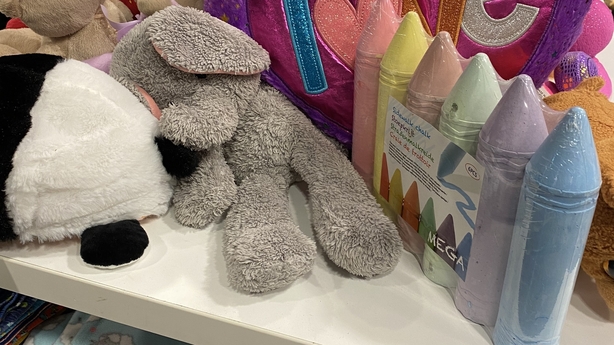 Ms Moria said most people are looking for clothes and shoes.
"When we left Ukraine it was cold and we were all wearing warm shoes and boots. That's why people try to find something lighter, like sneakers and lighter clothes, because we don't 'have none."
She explained how working here is a good distraction for her and especially for her mother. Otherwise, they spend too much time trying to find out what is going on at home.
Ms. Moria's brother, aunt and cousins ​​are still in Ukraine.
Ukrainian Ambassador Larysa Gerasko greeted the refugees on Clarendon Street this morning and said she was grateful to the Irish government but had a special mention for the people of Ireland.
"I would like to express a special tribute to the Irish for their tremendous response and for their generosity, hospitality and kindness," Ms Gerasko said.
"The support is so huge and amazing and I'm grateful to our Ukrainians who live here for their generosity towards our newcomers, our new immigrants."